Our First Commission Followed by a Pandemic
The last of a 5-part series where I take you behind the scenes of the most fulfilling experience of my writing life: developing a kids' animation series for TV.
In this installment, I'll talk about how we nabbed our first TV commission for an animated Christmas Special. I'll also talk about leading a team of writers, taking a break to have a baby, and finally the impact of the pandemic.
Christmas Special
Around January 2018 we got some thrilling news from RTE Junior – they wanted to commission an animated Christmas Special based on our picture book 'Hopscotch and the Christmas Tree'. It was to be broadcast over Christmas 2018, less than 12 months away. This was major progress for our little team!

I set about revising the script, according to the latest feedback I'd received. Meanwhile, Katerina (the director) along with Inesa and Tamsin (the producers) set to work, expanding the team. They sought out all the talented artists necessary to make this film.

As much of our funding came from Ireland as well as Lithuania, we had to hire a certain number of creative people from those countries. This was rather lovely, actually. We ended up with a very multinational crew.

We set up a small animation studio in Vilnius, in Lithuania, and trained up a number of local animators on CelAction, the animation software we were using. Our lead animator, Tim Frost was based in Brighton. He went out to Vilnius a few times, along with Katerina. The rest of the time, they both worked remotely; sometimes out of our little production office in Brighton, and sometimes from their homes.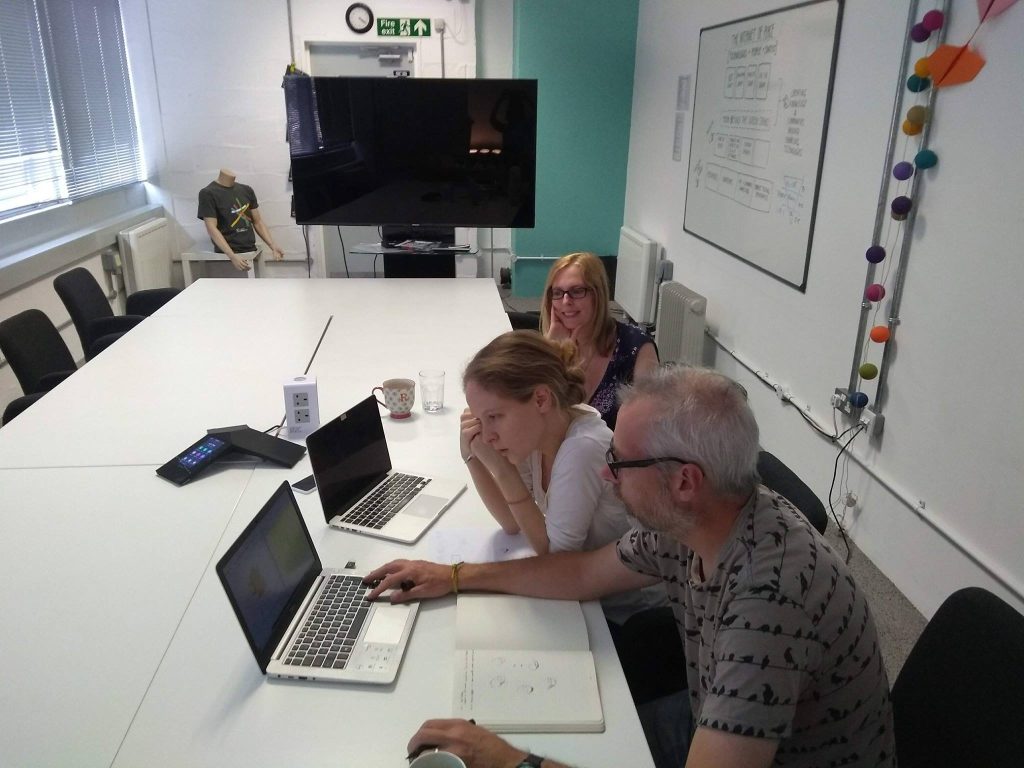 Rewrites
As the animation ticked along, I continued to tweak the script, for this reason, and that. Some were quite extensive rewrites, such as a completely new opening. We realised we needed to introduce the ensemble cast of characters more clearly.
Others were minor dialogue tweaks. In animation, as the characters don't have such a broad range of facial expressions as actors do, you have to add more dialogue to get your message across. You also need to write in every single grunt, gasp, and giggle.
When writing live-action scripts, the advice is generally – don't be too prescriptive in your scene directors as actors don't like it. But in animation, it's the opposite. You only have one or maybe a handful of chances to record the voices, so you don't want to miss anything, which means everything must be written into the script.
News!
In February, to my delight, I found out I was pregnant. This meant the pressure was on to do as much writing on the Hopscotch series as I could, before I went on maternity leave in October.

In March I wrote the 2nd picture book in the series, 'Malcolm and the Trampoline'. And after this, I turned my attention towards putting together a writing team and then writing as well as overseeing the writing of multiple new 'Happy Go Hopscotch' scripts. We had received some additional development funding, and we hoped that the animated Christmas Special would trigger a commission for the full series. So we decided to get a whole package of scripts ready along with a team of writers. We wanted to make sure they were well-versed in the characters and concept, ready to go, should our series be greenlit.
Writing Team
With the help of Linkedin, and thanks to some recommendations from various people we brought on board several very talented children's scriptwriters.
In July, I hosted a delightful Writers' Workshop in my home. As well as the writers, our script editor Mark, and Inesa, our producer also attended. During the day-long session, we explored the characters, talked about the theme – the Science of Happiness, and brainstormed story ideas, both altogether and in pairs.

At the end of the meeting, everyone went away with a couple of ideas to write up into more detailed outlines and then scripts. Over the next 3 months, I was intensely busy writing scripts, as well as reviewing ideas and scripts submitted by the other writers. It was an exciting time, but also intense, as I was somewhat preoccupied with pregnancy.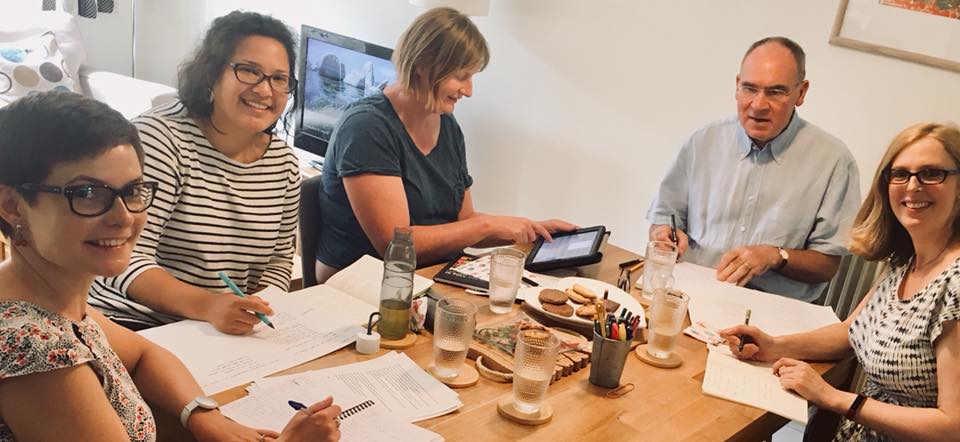 I signed off on the final draft of the Christmas Special by September 2018, this was draft 13! I had no idea the rewrites would go on for so long.
By early October we had a whole batch of scripts and ideas ready for our series, and I was able to hand it all over to Mark, the script editor. Two weeks later little Otto was born, and I slipped off the radar and immersed myself in motherhood, getting to grips with sleepless nights!
Our First Broadcast – A Christmas Special
In December I found the energy to hop onto social media with the wonderful news that 'Hopscotch and the Christmas Tree', our animated Christmas Special, would be broadcast multiple times over Christmas on RTE Junior. It was such a thrill to read the reviews coming in and hear people talk so warmly of our much-loved film.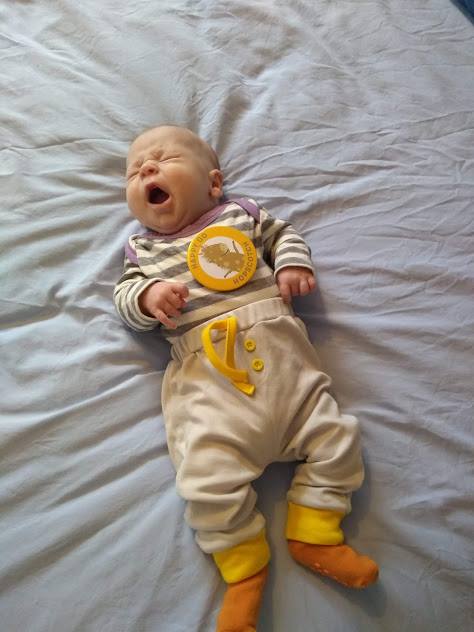 Early January 2019, director Katerina also had a baby and she too disappeared into a baby bubble. And so things went quiet on the Happy Go Hopscotch front for a while. Until February 2019… when we received the exciting news. 'Hopscotch and the Christmas Tree' had been nominated for Best Animation and Best Film or TV Special at the Irish Animation Awards. Woo hoo!

I continued with my maternity leave, which suited me just fine. Being a Mum turned out to be all-consuming. I managed about 1 meeting during a 9 month period, whilst Otto was rolling about on the floor. Nap time was an opportunity for me to play around with some new ideas.
Returning to Hopscotch
Our 2nd picture book – 'Malcolm and the Trampoline' – was released in August 2019. And then in October, I came off maternity leave, just as we had received another chunk of development funding. We received enough money for me to write 2 new Hopscotch scripts and for Katerina to direct a full pilot episode. We were sure that these additions to our package would help us secure our much-hoped-for series commission.

I loved getting stuck back in. After a break from writing Hopscotch for a year, I came back with fresh ideas and renewed energy. I adored Otto, but still, it was a treat to focus on something creative again.

More excitement came over Christmas 2019 when TV channels and cinemas around the world, broadcast our Special, 'Hopscotch and the Christmas Tree', and again with some lovely reviews. 2020 would be our year, I was sure of it.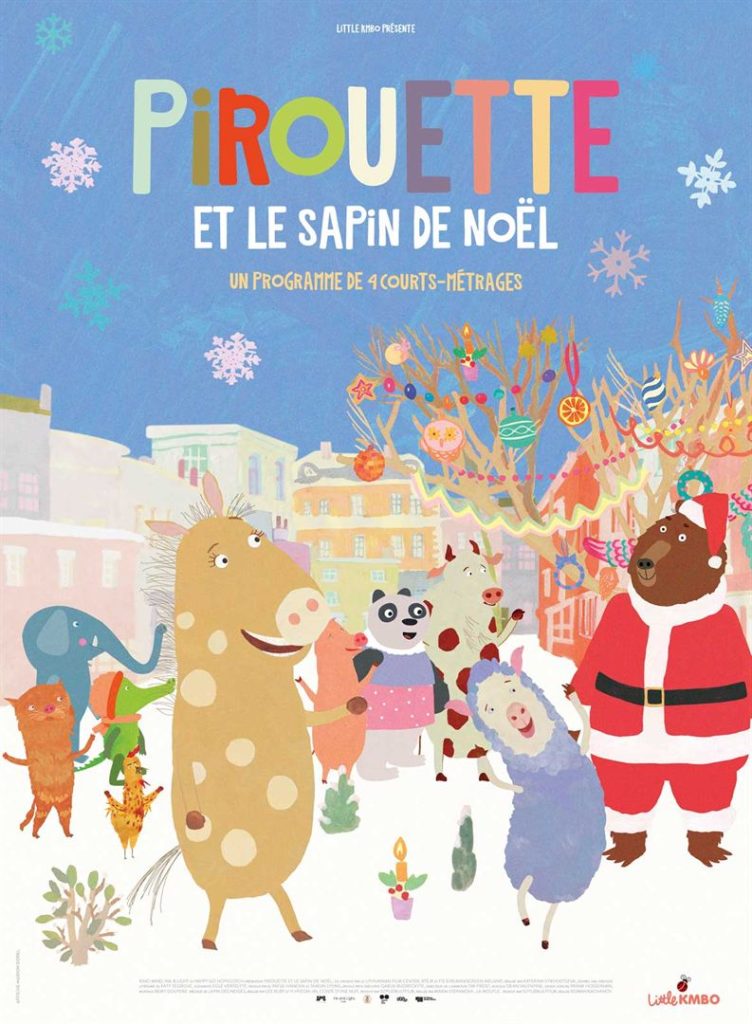 We started 2020 with high hopes of a big series commission. As well as pushing our series, we were also thinking about producing another animated Special, so I started working on an outline for a new idea. And the producers started putting together an application for funding.
Covid 19
But then March 2020 came along, bringing with it a rather significant global pandemic called Covid 19. Little by little everything started to crumble. Me, the director, and two of the producers were all Mums, and without childcare, it was tough to work. Without in-person events, it was impossible to network.

We were still a very new production company, not yet in a position to just call or email commissioners and have a chat. We relied on face-to-face encounters at animation markets, conferences, and summits in order to push things forward, make things happen. Without funding, without backup, our small team struggled and slowly fell apart. And just like that, Happy Go Hopscotch disappeared into thin air.

It took a while for it to sink in. I kept expecting us to find a way to resurrect it. But no, it was true, our time had passed. I was gutted.

It's heartbreaking for a writer to walk away from an idea when so much love and sweat and toil has been poured into it. And yet, this is what we do time and time again. We conjure something out of nothing. We dare to share it with the world, we hope and pray that people will like it, that a group of clever people will come together, find the money and the talent to make it happen. But often, for a whole combination of reasons, it doesn't happen. We start again on the next one, and then the next and the next. Until eventually something sticks.

So, with a heavy heart, I finally moved on…

Right now, I'm writing animation scripts for other people, collaborating again, daring to develop some brand-new ideas, and coaching other writers. And of course, I'm looking after my little boy, who brings me so much inspiration.

So, what have I learned from this long crazy roller coaster of a ride?
Here are my top 9 lessons for developing a kids' animation series
Animation is super collaborative. Lean into that. Don't try and do it all on your own. In other words, share your ideas in their early stages, rather than thinking you have to have the whole thing polished and fully worked out.

Networking is essential. Throw yourself into, make friends, be open and see where it leads you. That includes you, writers! Network online – Linkedin is great – but also in person at cartoon conferences and summits as well as festivals. You're more likely to make it happen if you have developed some good solid relationships.

Look for collaborators that you like and respect. They don't have to be the most experienced people out there, but you must admire their work, get along and believe that they have what it takes to make it happen.

Animation series tend to piece together their budgets from multiple places and numerous countries. So, network widely and across international borders.

If you are a brand-new team, starting from scratch, without any financial backing, you can make things happen, but just be aware that it's likely to be tough. So think about who you can team up with to make the journey a little easier.

Ask for advice. Kids' animation is a very friendly industry and people will often give you advice for free. Just respect their time and be open and grateful for whatever they have to share.

Keep an eye on all the other shows out there. Don't assume you're doing something completely unique. You need to be able to reference other series, and also know how yours fits into the landscape. Figure out what is both similar and distinctive about your idea.

Getting an animation series off the ground often takes years. You will need resilience and grit to get you through the highs and lows, so a little bit of mental and physical self-care wouldn't go amiss.

Good luck – and have fun!
Get in touch!
I hope you found this series helpful. Please share it with any writers in your life who might find it interesting. I send out a newsletter every couple of weeks with tips on all aspects of writing, productivity, habits, blocks and different ways of marketing yourself and your writing. Anyone who signs up for my newsletter gets a free 14-day writing course – perfect for kickstarting a writing routine.
Do get in touch if you have any questions about writing animation – or any other aspect of writing that you're struggling with. I might be able to address your question in a future newsletter article. I'll be back again soon with articles covering a wider range of writing-related topics.