Applying for Funding
The second of a 5-part series where I take you behind the scenes of the most fulfilling experience of my writing life: developing a kids' animated TV series.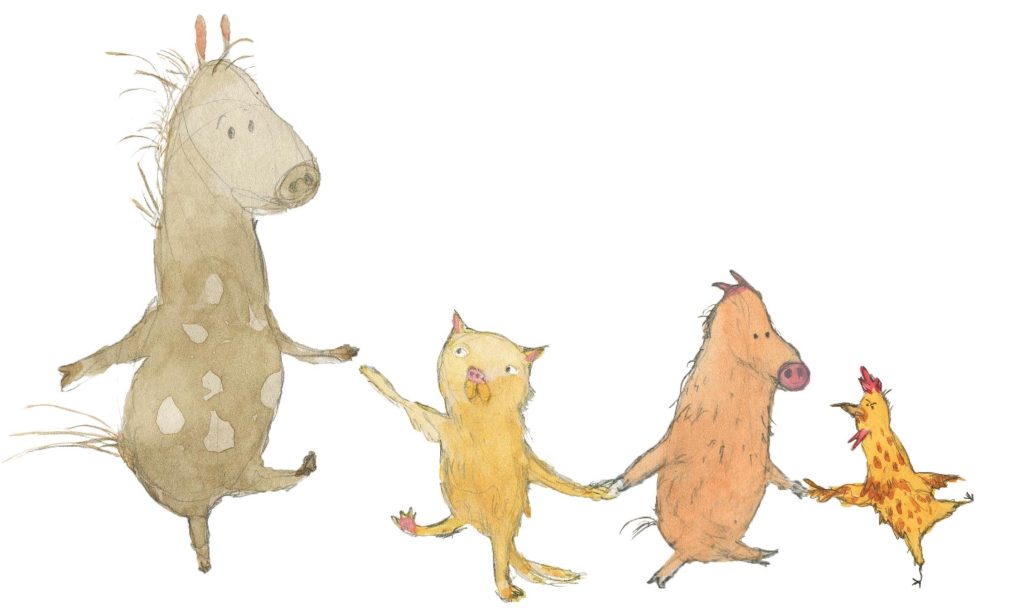 As I said in Part One this 6-year rollercoaster was filled with both success and failure. I hope my journey will be both interesting and useful to writers, producers and directors all looking to understand the creative process from the inside out.
In this series of posts…
I describe every step of the journey, from: –
finding my first kids' animation idea, to
building a team, to
working collaboratively, to
securing funding, to
pitching on stage to international producers, broadcasters and distributors to
getting books published, to
winning a commission for an animated TV Christmas Special, to
being nominated for awards, to
finally failing to get a full series commissioned
You will get an insight into the importance of sharing your work and networking, networking and more networking. You'll also leave with an understanding the value of both determination and mental toughness when developing a kids' animation series for TV.
PART TWO: Applying for Funding
After our first small win of being shortlisted for Bafta Rocliffe's writing for children's media competition, we surged ahead in developing our TV series. I was still working full-time, so it was intense trying to fit in all the writing. But it was fun too. I was exhilarated at the prospect of creating my own series and I had a team waiting for my work, which always makes it easier to sit down and write.
Every lunch break and at the end of each work day I would religiously work on the series. I got good at switching gears fast and writing in short chunks. My weekly structure, though busy, turned out to be ideal. Sometimes, just having writing on your to-do list can feel overwhelming.
So, my first task was to rewrite my pilot script and develop a mini bible based on feedback from the rest of the team. In case you don't know, a bible is a document you create when you're developing a TV series; it summarises the idea, characters, locations, rules of the world, theme, stories and team. And in the case of a bible for an animation series, it is full of images to help the reader visualise the show.
Creating the bible
None of us had ever created a bible before; I'd not even seen one for a Kids' Animated TV Series. But luckily I had a friend who was a kid's TV writer, and he kindly shared a few examples with me. They were all unique. The key, we discovered, is to put your own stamp on it to set the tone of your series as vividly as possible.
The first draft of our bible was as follows: we started with the 'log line' – a one-sentence summary of the series. Next, we had a 'concept' page, which described the idea in a couple of short paragraphs. After this, we had a 'structure' page, where we laid out the basic structure of each episode. We moved on to the 'Rules of the World'. In animation, anything goes as long as you're consistent. We then had thumbnail descriptions of our cast of now 6 characters.
Following on, we added a section from Katerina Vykhodtseva, the director, summarising her artistic vision for the series. We included short synopsis for 9 episodes, and finally, I added some of my background research about the Science of Happiness. But notably, we still didn't indicate the age range of the audience, the length of each episode or the number of episodes in the series. All of which are very important. I guess we were still learning.
Not Just Words…
Whilst I worked on the text for our bible, Katerina created more illustrations of the world, the main characters and a couple of possible scenes. She had trained as a fine artist, so she used watercolours to create a wonderfully distinctive, quirky style, quite unlike most computer animation. I loved the look of my world as she imagined it. And she quickly nailed the chicken character, Jules, but struggled with the main character of Hetty (as she was called then), the Happy Horse.
Her first attempts looked more pig-like than horse-like, which caused a certain amount of stress and anxiety amongst our little team. But in the end, her first false start turned out to be a gift. And so was born a brand-new character, Ingrid the pig!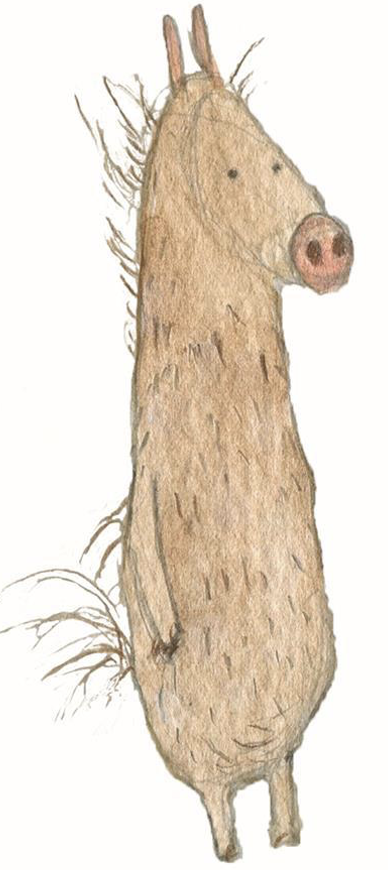 While Katerina and I were busy with the creative side of things for our Kids' Animated TV Series, Inesa Ivanova, the producer, and a co-producer now on board, became turbocharged in their attempts to find development schemes and funding opportunities to apply to.
Handling Rejection
The first application was for Cross Video Days – a European media conference with workshops and pitching opportunities. Big application form, lots of time and effort, lots of writing.
No success. Not taking it personally, we soldiered on.
The next was Power to the Pixel Lab – a development programme to help producers create, finance and distribute film and TV projects. Another big application form.
Still no success. We took a few days to lick our wounds, then onto the next scheme…
Wellcome Trust – a development fund for broadcast, film and games. Another form. So much time and effort.
Yet again, no luck. Disappointing, but we weren't giving up yet.
The biggest application form of all was for Creative Europe's development fund. It was for a really big chunk of development money that would well and truly put our children's animation series on the path to success.
I feared it was a long shot, but nevertheless, we threw ourselves into the application. We spent several intense weeks answering all the questions on the form and working on the materials we had to submit. We shared it with industry contacts that we'd been nurturing along the way and got lots of feedback. Then, we finally sent it all off around April 2015, then waited… and waited…
But we didn't stop working.
Spreading the Word about our Kids' Animated TV Series
The producers started a period of rigorous networking. They attended events like Cartoon Business in Munich and Cartoon 360 in Barcelona, pitching the idea, sharing our rudimentary bible, starting conversations and most importantly being open to feedback and ideas about how to turn our series into a top-class multimedia project.
Writing a Children's Picture Book
This led the producers to the idea that an animated picture book would be a cheap way to showcase our idea to broadcasters. And so, I attempted to write my first picture book story based on my pilot script.
My first crack at it wasn't great, I can say that in hindsight. I knew the language of screenplays much better than picture books; my Masters was in Screenwriting, but I hadn't written prose for a very long time. I also didn't have any kids, so I wasn't in the habit of reading picture books.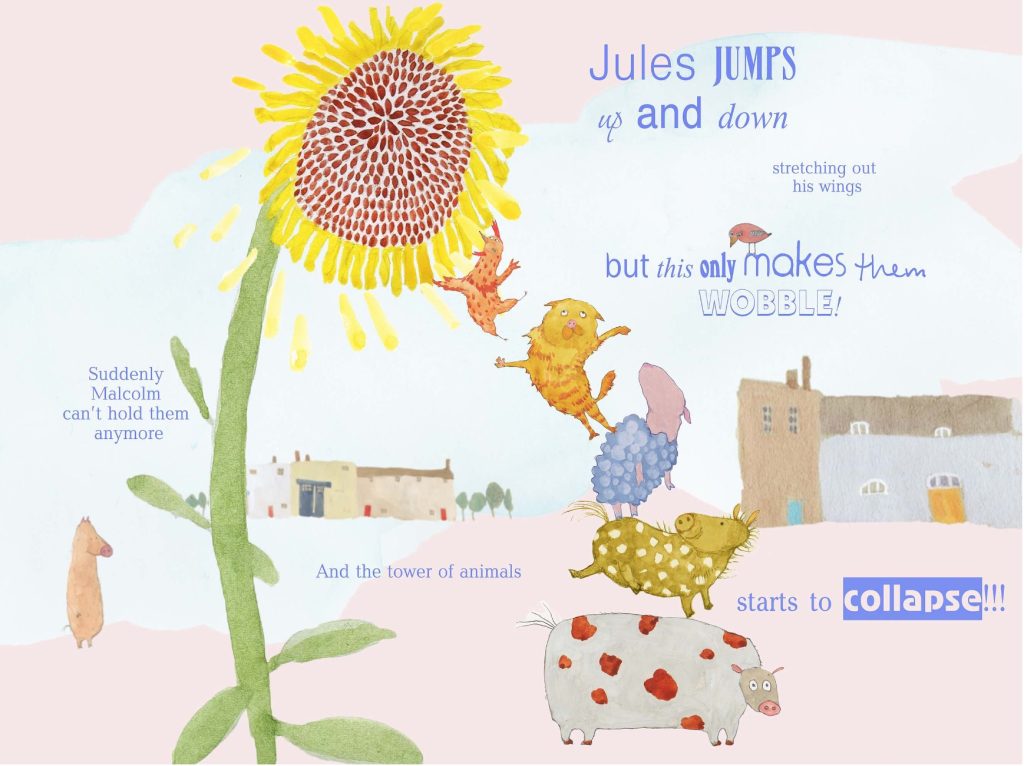 We even mocked up a page of the book. As you can see the fonts are all over the place! Luckily for us we quickly discovered how expensive it would be to produce an animated picture book, and not especially commercially viable, so we abandoned the idea, and continued to focus on developing our kids' animated TV series instead.
Good News at Last
After months of waiting, we finally heard in September 2015 that our application to Creative Europe was successful! We were awarded a large chunk of development money, which meant we had the resources we needed to develop our series to a professional standard.
Oh, what joy! We couldn't believe it! It was full steam ahead for 'Happy Horse'.
This wonderful news arrived the day before I was due to attend the London Screenwriters' Festival – a massive annual event for screenwriters to hear talks, pitch their work, network and generally get motivated. I went along with a spring in my step and a song in my heart convinced I was the next big thing in children's TV! I walked around the festival bursting to tell my news to anyone who would listen. One panel discussion sticks in my mind; it was all about getting into children's television. I listened intently and plucked up the courage to approach the panel afterwards and ask a few questions. I made a note of all the panel members, especially the moderator, writer and producer Mellie Buse. She later became a really useful connection.
Next Big Goal
Back from the festival, 'Happy Horse' had one big goal for the next year, to pitch at Cartoon Forum in Toulouse, a 3-day pitching forum for animated TV. This was the cartoon event in Europe to attend. Thousands of broadcasters and investors from all over the world go there every year.
First, we had to be accepted. And once we were accepted, we'd need a beautifully crafted bible, a well-rehearsed 20-minute presentation and some actual animated content. We hadn't animated a single second of the series so far (it costs so much, we hadn't been able to). But, thinking big, we decided to produce a short version of our pilot episode. This was going to be a lot of work, but we were sure it was worth it.
Coming Up in Part Three…
I write a shorter pilot episode and work with a script editor for the first time in my life; we see our animation come to life for the first time; and get on stage to pitch at not 1 but 3 big animation pitching events across Europe!
If you're new to my blog
I'm Katy Segrove, a screenwriter who offers 1:1 coaching for writers and screenwriters. Grab a spot for September.
September is a brilliant time to work on a writing challenge. We often feel highly motivated to get something on paper before the end of the year.
Working with a coach helps you set a goal and stick to it, tackle a block; or embark on the marketing and networking side of being a writer.
Often we put loads of effort into writing something, but when it comes to actually sending it out, we talk ourselves out of it. Sound familiar? Having the support of a coach makes it a lot easier.
To find out more about my coaching head over to Pick Up Your Pen. Got any questions? Let's have a quick 'no strings' chat. Send me a message to set that up.